PROTACT 2024
the ortovox sustainability strategy
ProtACT2024 is our next step towards more sustainability. Based upon our core values, protACT2024 combines existing initiatives with binding goals, which will be implemented by 2024.
ORTOVOX PROTECTS SHEEP
Animal protection – in particular the welfare of sheep – determines our actions as wool experts. In 2017, we used this as a basis for developing our own wool standard. The ORTOVOX WOOL PROMISE (OWP) stands for the highest quality of animal welfare and sustainable economic management. Furthermore, all farms are certified to the international Responsible Wool Standard (RWS). Regulations are essential, but for us the basic premise remains the honesty, ambitious mindset and involvement of all partners. That's why we also hold regular ROUND TABLE DISCUSSIONS to utilize and intensify our close, friendly cooperation with sheep farmers, producers and experts. Here we bring different interest groups together to openly discuss challenges, implement new ideas and develop solutions.
GOAL: 100 % OWP-VERIFIED WOOL BY 2024
The goal is to further strengthen the ORTOVOX WOOL PROMISE by 2024. As part of this, SWISSWOOL, the traditional wool from the Swiss Alps used primarily as insulation material, will also be included in the OWP. Integration is planned for 2021/2022. Furthermore, we have set ourselves the goal of demonstrating transparency in all processes and procurement steps.
ORTOVOX PROTECTS PEOPLE
The fair treatment of employees, customers and business partners is our highest priority. We have been a member of the PARTNERSHIP FOR SUSTAINABLE TEXTILES initiative and the FAIR WEAR FOUNDATION (FWF) since 2015.
Our commitment to fair working conditions was rewarded once again in 2019 when it received FAIR WEAR FOUNDATION LEADERSHIP STATUS – the FWF's highest accolade. Since 2018 we maintain the status.
GOAL: MAINTAINING FWF LEADER STATUS
We have set ourselves the goal of maintaining LEADER STATUS within the FAIR WEAR FOUNDATION. The status of the FWF is reviewed annually and as such calls for a process of continuous improvement. In concrete terms, this means we are committed to continually making production planning more efficient and socially acceptable. The status also includes payment of a living wage in a safe, healthy working environment. For example, as part of the roadmap of the PARTNERSHIP FOR SUSTAINABLE TEXTILES, We are also committed to improving chemical and environmental management among all manufacturers.
ORTOVOX PROTECTS REGIONAL UNIQUENESS
We use and nurture natural resources and traditional expertise worldwide – such as Tasmania's centuries-old experience in processing merino wool. And since its early years, the brand has also relied specifically on local raw materials and regional craftsmanship The ORTOVOX textile production chain currently comprises 48 companies in 14 countries. 56.49% of all textile products are made in Europe.
GOAL: 60% OF PRODUCTION IN EUROPE
We have set ourselves the goal of continuing to manufacture at least 60% of our production volume in Europe. Working closely with local stakeholders, we are also committed to supporting special activities at international locations. For example, the Tarkine rainforest in Tasmania, the island that is home to our merino sheep, is one of the largest, oldest and most biodiverse landscapes in the world. However, large-scale clearances by the mining and timber industry threaten its unique diversity – and what is an enormous green lung for our planet. We supported the Bob Brown Foundation, which is committed to the conservation of the rainforest, with various campaigns. For every order purchased from the online store and not returned, we donated 3 euros to the Foundation. We also invested 10,000 euros in the Tarkine Trail app, which is designed to promote soft tourism in the region. In addition to providing financial support to the Bob Brown Foundation, we also equiped local environmental protection teams with backpacks and clothing.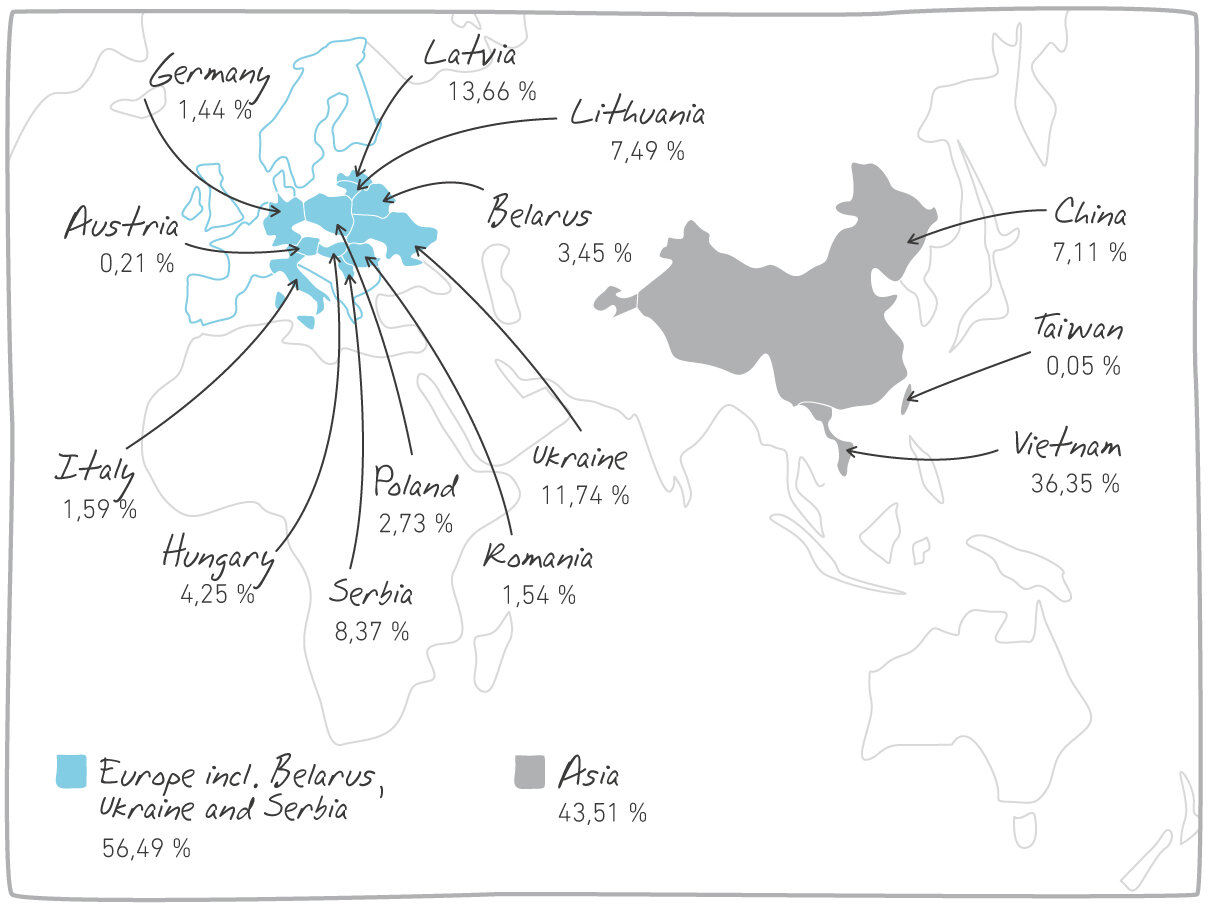 ORTOVOX PROTECTS THE MOUNTAINS
Protection of the environment is part of our self-image and influences the company's actions. Our declared goal is to achieve climate neutrality at all company sites and for all products. Initially this means accurately measuring the carbon footprint, then developing a strategy to reduce this to a minimum and offset the remainder.
GOAL: CLIMATE NEUTRALITY
We will measure our carbon footprint – taking into account energy, water, heat and paper consumption, the commutes that our employees make to and from work and the production of climate-neutral products – before drawing up and implementing measures to maximize its reduction. Unavoidable CO2 emissions will ultimately be offset by compensatory measures. We will therefore be completely climate-neutral by 2024.
ORTOVOX PROTECTS YOU
ORTOVOX products protect mountain athletes through their reliable functionality and high-quality materials. The products facilitate rapid, life-saving action in emergency situations and guarantee protection against the adversities of nature. For us, this safety focus also means ensuring that all of our suppliers fulfil their responsibilities with regard to chemical management, and work together to improve standards on an ongoing basis.
AIM: 100% PFC-FREE
In order to ensure that no harmful substances are used in our products, we require our partners and suppliers to comply with our "Guide to Chemical Management and Compliance". This includes the MRSL (Manufacturing Restricted Substances List) from the ZDHC (Zero Discharge of Hazardous Chemicals), and the RSL (Restricted Substances List) based upon the rigorous bluesign® standard. We also provide our suppliers with comprehensive information on issues such as good housekeeping, wastewater management, etc.
Furthermore, we are working to phase out PFC-free products step by step, with the aim of selling only PFC-free products by 2024. Starting at the latest with the 21/22 winter collection all SWISSWOOL products will be completely PFC free, extending to all softshell products from winter 22/23, and all hardshell products and accessories from winter 23/24.
ORTOVOX PROTECTS USING SUSTAINABLE INNOVATION
Our passion for the mountains drives us to take new paths when designing functional and sustainable products and processes. When it comes to technical innovation, we have been one of the outdoor industry's leading brands since our foundation in 1980. From the outset, the issue of durability has also been a decisive factor in the development of our products. This approach will now be strengthened through our Second Life efforts and initiatives.
goal: MOUNTAIN SECOND LIFE
Durability and reparability have a significant influence upon the sustainability of a product and are, therefore, of particular importance to us. Our Second Life strategy focuses upon the best possible use and care of our products, further optimization of reparability and the development of solutions that will facilitate and simplify the recycling of used products.