ASCENT 40 AVABAG w/o AVABAG-Unit
Colour: safety blue
Register your product in our service hub and get all safety-related information and software updates immediately.
More information

This product was manufactured under fair working conditions in conformity with Fair Wear Foundation.
More information

This product is climate neutral. It was produced in the most environmentally friendly way possible. Any unavoidable CO2 emissions have been offset.
More information
Ready for demanding multi-day ski tours!
Lightweight, spacious ski touring backpack
Our new ASCENT 40 AVABAG has been designed for ski tours lasting several days and demanding skiing excursions, and it completes our AVABAG ski touring line. As with the smaller models, the focus here is upon safety – which the ASCENT 40 AVABAG achieves with ease and efficiency.
At 40 liters and with three inner pockets, our ASCENT 40 AVABAG provides enough storage space for multi-day ski tours and ski excursions. The circumferential zipper on the front allows for rapid access to the entire contents of the main compartment. Emergency equipment can be stored in the separate safety compartment so that it can be reached quickly.
For demanding ski tours, a rope can be attached quickly and easily to the ascent-oriented avalanche airbag. Sleeping mats and sleeping bags can be quickly attached to the outside using the additional material loops. In steeper terrain, your skis can be attached securely and diagonally to the avalanche backpack using the D-skifix. Of course, there is also an ice axe and hiking pole fastening, and a fixed helmet net. The aluminum locking clasp, safety leg strap and chest strap with signal whistle and emergency card all come as standard.
In addition to safety and packing space, comfort also plays an important role, particularly for multi-day ski excursions: The soft, foamed 3D back system and reinforced straps ensure both stability and comfort. Lightweight yet abrasion resistant materials make the ASCENT 40 AVABAG durable enough for rough terrain and numerous tours.
Our ASCENT 40 AVABAG has everything the NAKED SHEEP needs on multi-day ski tours and demanding ski excursions, and it leaves unnecessary weight at home.

AVABAG SYSTEM
This light airbag system weighs just 690 grams* and is thus sensationally compact. Another special feature of the AVABAG system is the activation training: You can practice activating it again and again without the cartridge attached, so that you can be well prepared for an emergency situation.
The advantages of the AVABAG system at a glance:
- extremely light and sensationally compact airbag system
- unlimited activation training (without cartridge)
- handle design optimized for activation: the handle can be gripped with any type of glove, and is suitable for both left and right-handed users
- removable and compatible with all ORTOVOX AVABAG backpacks
*Weight fluctuations of +/- 4% may arise during manufacturing.
Scope of delivery for the ASCENT 40 AVABAG
The ASCENT 40 AVABAG comes without an AVABAG unit
Product features

Product features
Locking clasp (hip belt)
Release grip height adjustable
Fixed helmet net
Emergency card
Key holder
Safety leg strap
Bright Inside
Chest strap with signal whistle
Access to main compartment: front
Compression strap
Gear loops
Ice axe and hiking pole fastening
Rope attachment
Separate safety compartment
Snowboard and snowshoe attachment
Hydration system compatible
Circumferential zipper
Water-resistant zipper
Holder for safety equipment
Diagonal ski fastening
Extremely lightweight
Highlights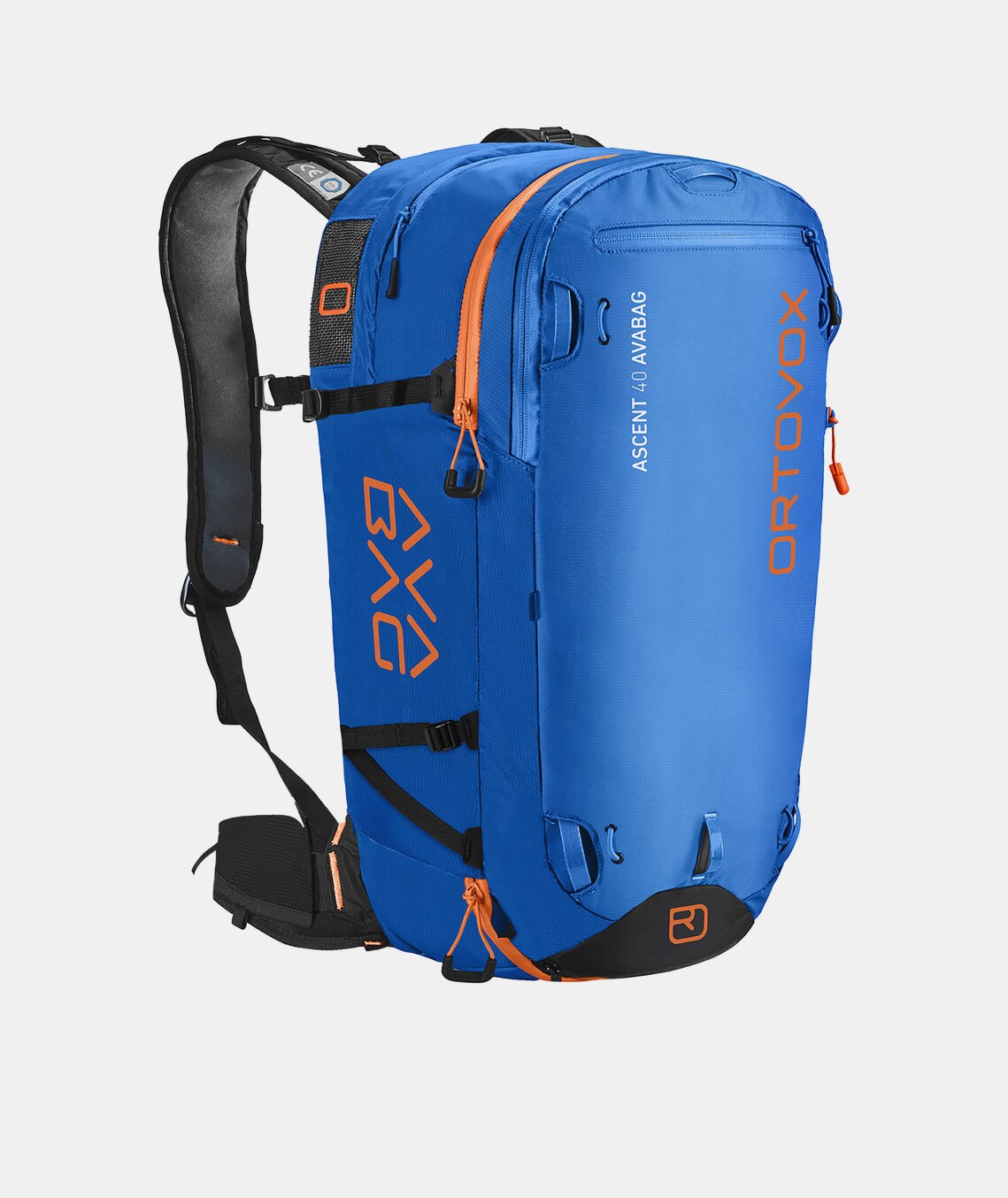 ACCESS TO MAIN COMPARTMENT
ACCESS TO MAIN COMPARTMENT
ICE AXE AND HIKING POLE LOOPS
ICE AXE AND HIKING POLE LOOPS
HELMET NET
HELMET NET
Fixed in a zipped compartment; optimized fastening.
Safety leg strap
Safety leg strap
for the highest possible safety in the event of an avalanche.
HYDRATION SYSTEM COMPATIBLE
HYDRATION SYSTEM COMPATIBLE
Loop for drinking tube on the shoulder strap.
GEAR LOOP
GEAR LOOP
For additional material attachment.
D-SKIFIX
D-SKIFIX
A fast and safe diagonal ski fastener that offers plenty of wear comfort.
You might also like these products