3L ORTLER JACKET W
Colour: winetasting
ALPINE MINIMALISM: OUR LIGHTWEIGHT FOR ALPINISTS
ROBUST, WIND AND WATERPROOF HARDSHELL JACKET FOR ALPINE ACTIVITIES
Highlights
Extra light and yet robust
Wind- and waterproof
Breathable with additional ventilation zippers
Whether on stormy ascents or in heavy snowfall on a summit – the 3L ORTLER JACKET for women is our lightweight for true alpinists!
For the MERINO NAKED SHEEP line we've concentrated on the essentials: Low weight, optimum protection and ample comfort. This hardshell jacket is lightweight and technically sophisticated yet robust and comfortable.The DERMIZAX® NX membrane from Toray – the most high-performance membrane that we use – ensures the jacket is windproof, waterproof and breathable. The hardshell jacket has a 2-way zipper for an optimal fit – even with a climbing harness. A 2-way zipper in the underarm area provides ventilation during sweat-inducing climbs. Soft, merino-mix inserts around the chin and the 2-way adjustable, helmet-compatible storm hood offer comfort and protection in rain, snow or icy conditions.
The 3L ORTLER JACKET: For alpinists who want clothing that is 100% reliable during high alpine tours when it's snowing and icy.
Product features

Product features
120 MERINO TEC inserts inside
2-way front zipper
1 Chest pocket
1 Upper arm pocket
2-way zippered underarm ventilation
Adjustable cuffs
Seam width adjustment
Regular Fit
waterproof
windproof
Material properties

Material properties
DERMIZAX NX
DWR-FINISH
Light weight
durable
Small packing size
OUTER: 100% polyamide MEMBRANE: 100% polyurethane (Toray Dermizax®NX,) INNER: 100% polyester DETAILS: 85% virgin wool (OWP MERINO) + 15% polyamide
Highlights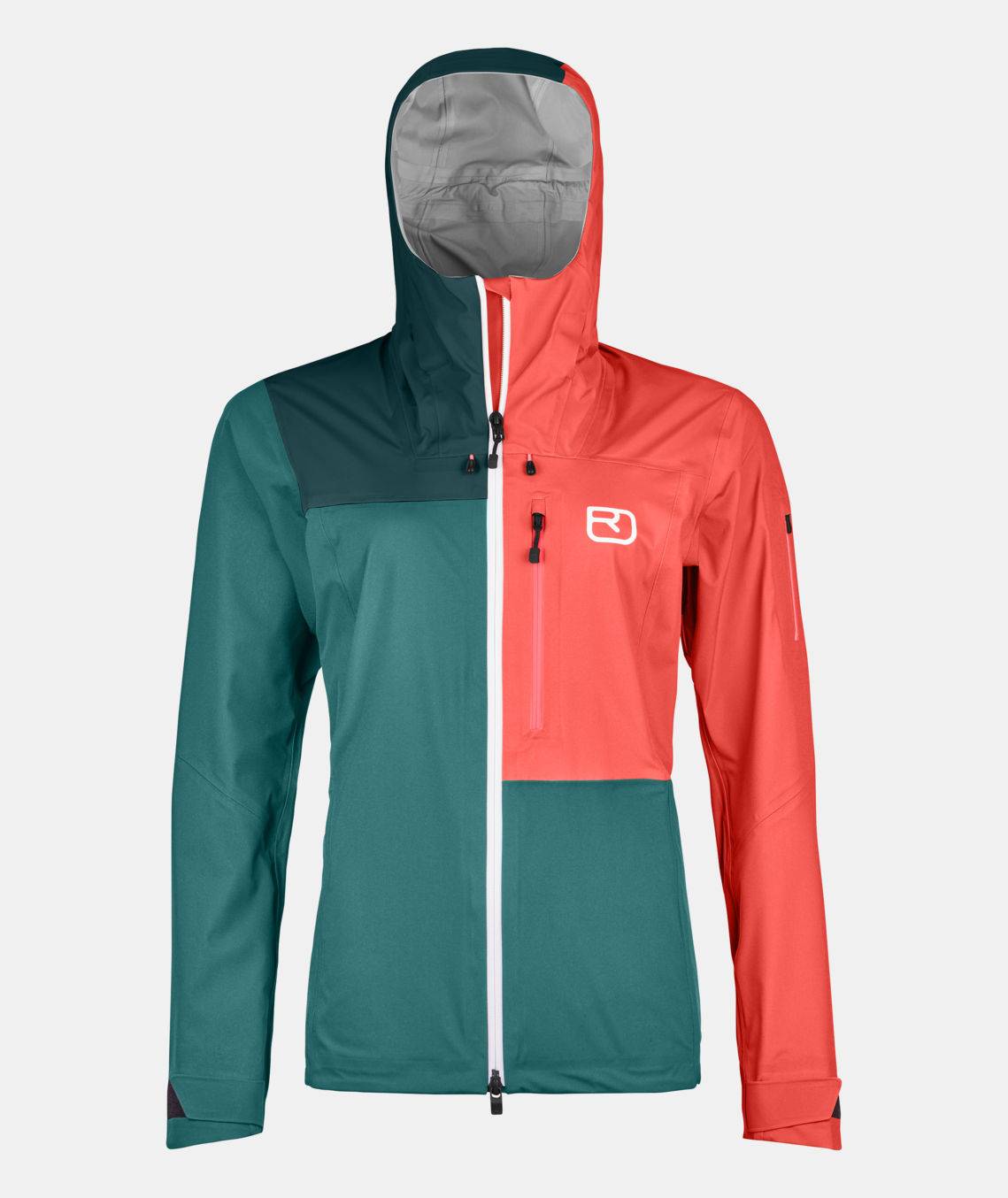 2-WAY ADJUSTABLE HOOD (HELMET COMPATIBLE)
2-WAY ADJUSTABLE HOOD (HELMET COMPATIBLE)
Concealed horizontal and vertical adjustment options ensure the perfect fit and provide comfort in stormy conditions
2-WAY ZIPPERED UNDERARM VENTILATION
2-WAY ZIPPERED UNDERARM VENTILATION
Helps you cool down during strenuous exertion.
SOFT HOOK AND LOOP CUFFS
SOFT HOOK AND LOOP CUFFS
Elastic and adjustable. Sleeve cuffs fit over gloves.
WELDED SEAMS
WELDED SEAMS
Thin tape reduces weight without compromising rainproofing.
UPPER ARM POCKET
UPPER ARM POCKET
Auto-lock slider prevents unwanted opening.
1 SPACIOUS BREAST POCKET
1 SPACIOUS BREAST POCKET
With zip pullers for a perfect grip. Optimized for backpacks.
VISIBILITY
VISIBILITY
Intense colors for better protection in Alpine terrain.
ADJUSTABLE WAISTBAND
ADJUSTABLE WAISTBAND
Quick and easy to adjust.
BENEFITS MERINO WOOL
Our wool has its origins at the heart of a natural paradise: Tasmania. Where the air is at its purest, the food lush, and the climate moderate – that's where fair merino wool that fulfils the highest quality standards can be found.
ORTOVOX WOOL PROMISE
Our commitment to fair wool: Our own wool standard ensures that our merino wool is sourced in an animal- and environmentally-friendly manner. Our friendly relationship with our farmers enables us to have full transparency throughout the value-added chain.
You might also like these products