ASCENT 30 AVABAG w/o AVABAG-Unit
Colour: safety blue
Register your product in our service hub and get all safety-related information and software updates immediately.
More information

This product was manufactured under fair working conditions in conformity with Fair Wear Foundation.
More information

This product is climate neutral. It was produced in the most environmentally friendly way possible. Any unavoidable CO2 emissions have been offset.
More information
LIGHTWEIGHT AVALANCHE BACKPACK FOR EXTENSIVE TOURS
Lightweight, spacious ski touring backpack
The ASCENT 30 AVABAG is the ideal airbag backpack for long ski tours. Our extremely light avalanche backpack comes with 30 liters of usable volume for your equipment – from safety equipment to a hydration system to a change of clothes and a snack, everything has its place!
This makes the ASCENT 30 the perfect companion for demanding ascents to craggy summits and long powder descents through fresh, deep snow. ASCENT means complete concentration on the essential: function and protection with low weight and great comfort. Thanks to the foamed 3D back system, our avalanche backpack is light, stable and comfortable. Naturally, we thought of essential features such as the ice axe and hiking pole fastening, a circumferential zipper for quick access to equipment and diagonal ski attachment for greater wear comfort!
In addition, an AVABAG UNIT can be easily and quickly installed into our ASCENT 30 AVABAG. The system weighs only 690 grams*, is sensationally compact, removable and can easily be activated again and again without the cartridge attached. This allows for activation training to prepare for quick and correct action in an emergency.
*Weight fluctuations of +/- 4% may arise during manufacturing.
The advantages of the AVABAG system at a glance:
- extremely light and sensationally compact airbag system
- activation training without cartridge
- handle design optimized for activation: the handle can be gripped with any type of glove, and is suitable for both left and right-handed users
- removable and compatible with all ORTOVOX AVABAG backpacks
Scope of delivery for the ASCENT 30 AVABAG
The ASCENT 30 AVABAG comes without an AVABAG unit
Product features

Product features
Removable helmet net
Locking clasp (hip belt)
Safety leg strap
Bright Inside
Chest strap with signal whistle
Diagonal ski fastening
Access to main compartment: front
Compression strap
Gear loops
Ice axe and hiking pole fastening
Key holder
Rope attachment
Separate safety compartment
Snowboard and snowshoe attachment
Hydration system compatible
Circumferential zipper
Water-resistant zipper
Emergency card
Release grip height adjustable
Holder for safety equipment
Side snowboard/snowshoes fastening
Extremely lightweight
Highlights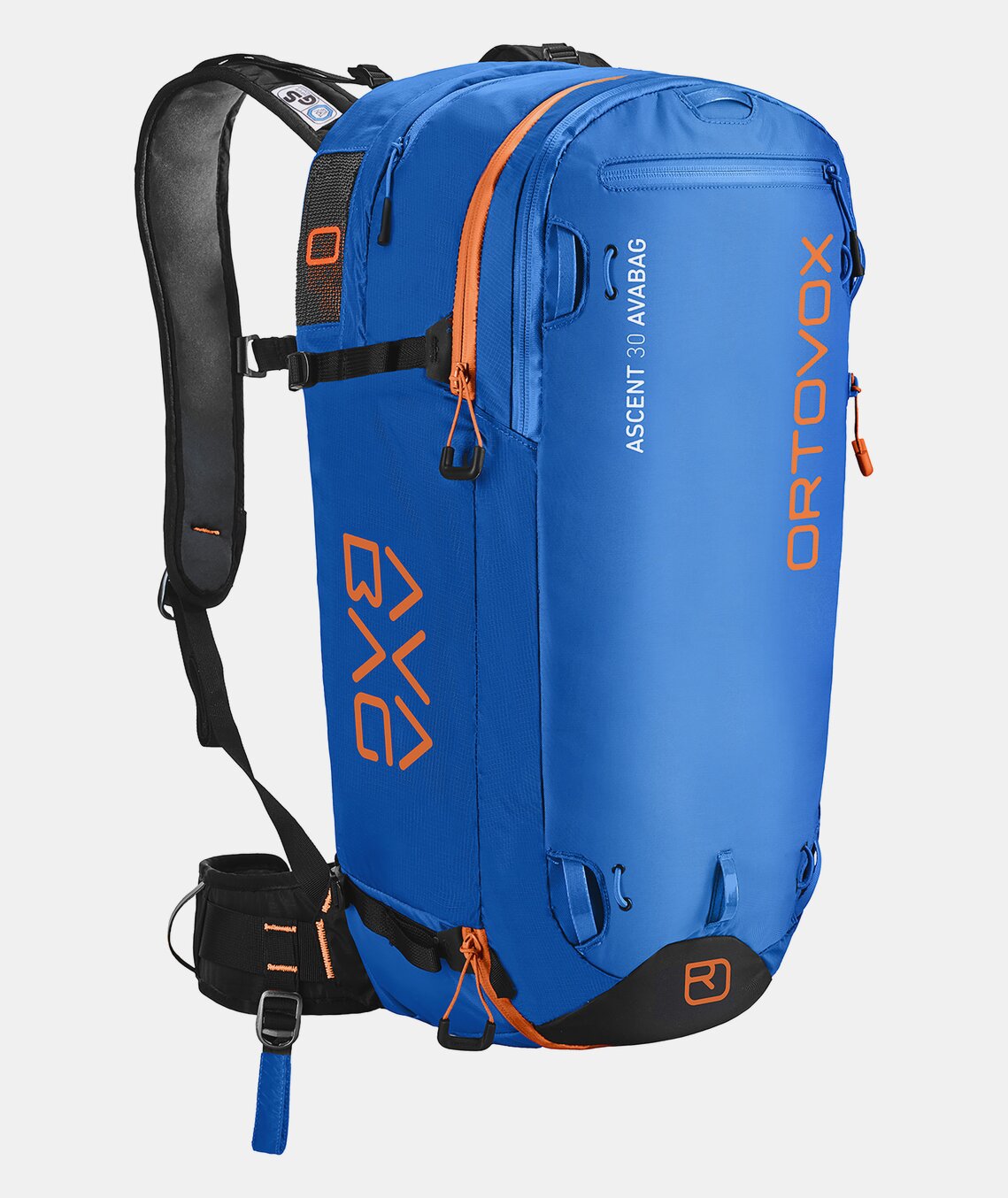 HYDRATION SYSTEM COMPATIBLE
HYDRATION SYSTEM COMPATIBLE
Loop for drinking tube on the shoulder strap.
D-SKIFIX
D-SKIFIX
A fast and safe diagonal ski fastener that offers plenty of wear comfort.
Safety leg strap
Safety leg strap
for the highest possible safety in the event of an avalanche.
SNOWBOARD AND SNOWSHOE ATTACHMENT
SNOWBOARD AND SNOWSHOE ATTACHMENT
Optimized, complete transport aid.
BRIGHT INSIDE
BRIGHT INSIDE
Light colors inside make it easier to find your equipment.
Ice axe and hiking pole loops
Ice axe and hiking pole loops
ACCESS TO MAIN COMPARTMENT
ACCESS TO MAIN COMPARTMENT
You might also like these products