AVABAG LITRIC FREERIDE 16S
Colour: pacific green
Weight (incl. AVABAG-Unit)
Register your product in our service hub, extend your warranty to five years and get all safety-related information and software updates immediately.
More information

This product is climate neutral. It was produced in the most environmentally friendly way possible. Any unavoidable CO2 emissions have been offset.
More information

This product contains no environmentally harmful per- or polyfluorinated chemicals (PFCs).
More information
Product Video
Highlight Video
THE FUTURE OF FREERIDING: LIGHTWEIGHT, VERSATILE, ELECTRIC
Electronic LiTRIC avalanche backpack (16 l) with short back for freeriding
Highlights
AVABAG LiTRIC airbag system: electronic, lightweight and reliable
Back and features specially tailored to freeriding
Versatile: Compatible with all AVABAG LiTRIC FREERIDE S and TOUR S Zip attachments
The future of freeriding: The AVABAG LiTRIC FREERIDE 16 S is an avalanche airbag backpack that has been specially designed for descents. From powder days near the piste to multi-day freeriding trips: Just one BASE can be used to attach various sizes of AVABAG LiTRIC FREERIDE and TOUR Zip attachments, each tailored to their intended use. The Zip is designed in such a way that, when combined, the base and the various packs merge to form a single unit.
Comprising a back element and airbag system, the BASE of the AVABAG LiTRIC FREERIDE 16 S has a specially designed shortened back system for smaller people. Thanks to the CLASP BACK SYSTEM – with soft back pads, wide, flexible hip belt and soft shoulder straps – the versatile, lightweight FREERIDE BASE sits extremely snugly against the back while allowing complete freedom of movement. It is compatible with the CLASP SPINE PROTECTOR (available separately).
And all of the stowaway bag's features are exactly tailored to freeriding: Features such as ski, snowboard and ice axe fastenings as well as a helmet holder and quick access to the main compartment leave nothing to be desired. Emergency equipment can be secured in special material loops in the main compartment.
LiTRIC, the electronic airbag system, is lightweight, reliable and easy to use. The electric system can be fully charged in approx. 25 minutes via USB-C and activation can be tested any number of times at no additional cost. The lack of a cartridge means: more space, no weighing necessary, no cartridge disposal, no travel limitations. The design is clever down to the smallest detail, supercapacitors are used instead of cartridges and the airbag is ultra-lightweight – making the system one of the lightest on the market. And the system is especially easy to use. From charging and the LED display, to the activation handle, to airbag packing and the leg loop: LiTRIC AVABAGS are absolutely intuitive to operate. One charge enables at least two activations. When switched ON its operation time is approx. 60 hours, which allows for multi-day tours with no need for recharging. Its operating temperature ranges from -30°C to +45°C.
All products in the AVABAG LiTRIC FREERIDE line are climate-neutral and PFC-free.
Registering the system on https://www.ortovox.com/service-hub will extend its warranty from two to five years.
Product features

Product features
Zip On-System
Release grip height adjustable
Access to main compartment: front
Safety equipment attachment
Safety leg strap
CLASP protector insert
D-Skifix
Snowboard and snowshoe holder
1 Ice axe and hiking pole loops
Chest strap with signal whistle
Helmet net
Big hip belt
Bright inside
Hydration system compatible
Emergency card
Key holder
Highlights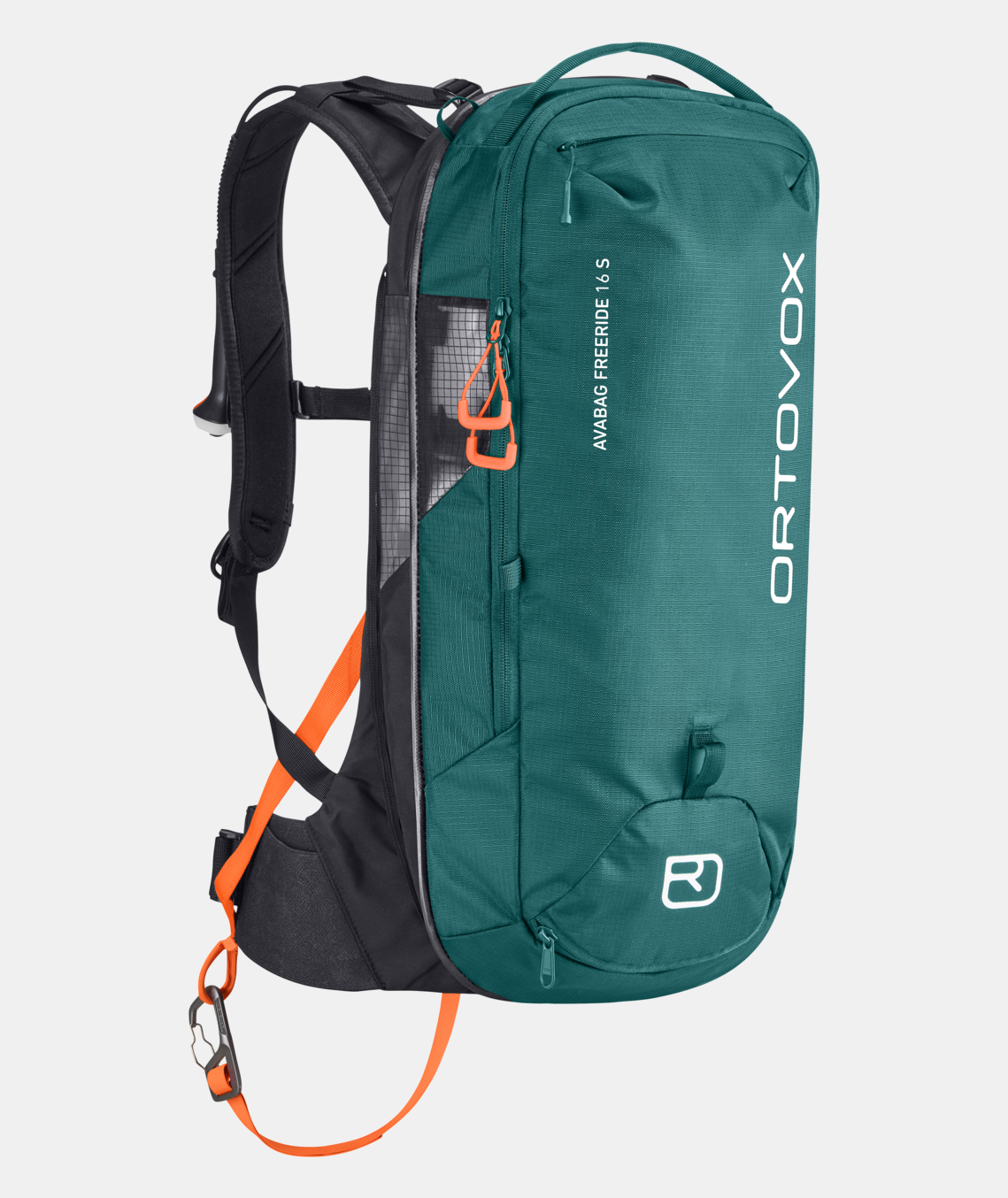 D-SKIFIX
D-SKIFIX
A fast and safe diagonal ski fastener that offers plenty of wear comfort.
ICE AXE AND HIKING POLE LOOPS
ICE AXE AND HIKING POLE LOOPS
Bright Inside
Bright Inside
Light colors inside make it easier to find your equipment
Wide hip belt
Wide hip belt
Wide, elasticated, and made from comfortable neoprene for an optimal body-hugging fit, even when in motion.
HYDRATION SYSTEM COMPATIBLE
HYDRATION SYSTEM COMPATIBLE
Access for hydration systems through the shoulder strap.
MAP COMPARTMENT WITH KEY HOLDER
MAP COMPARTMENT WITH KEY HOLDER
HELMET NET
HELMET NET
Fixed in a zipped compartment.
ACTIVATION HANDLE
ACTIVATION HANDLE
The handle can be quickly and easily stowed by turning it 180°. Thus, getting caught on the handle and causing false activation is impossible. Height-adjustable handle.
HEIGHT-ADJUSTABLE CHEST STRAP WITH SIGNAL WHISTLE
HEIGHT-ADJUSTABLE CHEST STRAP WITH SIGNAL WHISTLE
COMPATIBLE WITH "CLASP" BACK PROTECTOR
COMPATIBLE WITH "CLASP" BACK PROTECTOR
SAFETY LEG STRAP
SAFETY LEG STRAP
Additional safety in the event of an avalanche. With a certified aluminum 7075 special carabiner.
ELECTRIC LED DISPLAY AIRBAG SYSTEM
ELECTRIC LED DISPLAY AIRBAG SYSTEM
The charge level of the airbag and on/off display can be clearly seen even in glaring daylight.
SIMPLE TO STOW AWAY
SIMPLE TO STOW AWAY
The airbag can be quickly packed away by simply pushing it back in.
You might also like these products