FLEECE LIGHT GLOVE W
Colour: mountain blue

The wool used in this product has been inspected for compliance with the ORTOVOX WOOL PROMISE.
More information

This product was manufactured under fair working conditions in conformity with Fair Wear Foundation.
More information

This product is climate neutral. It was produced in the most environmentally friendly way possible. Any unavoidable CO2 emissions have been offset.
More information
THE IDEAL COMPANION FOR QUICK ASCENTS
LIGHTWEIGHT FLEECE GLOVES WITH SMART FINGER AND LEATHER PALMS FOR SKI TOURS
Highlights
Highly breathable
Wind- and water-resistant and quick drying
Merino wool on your skin
Soon you won't want to take another step without your FLEECE LIGHT GLOVES for women.
Thanks to the fine merino fibers, our fleece gloves are comfortably soft on the skin and warm even when wet. The elastic material provides great freedom of movement and, thanks to the goatskin leather with punchhole reinforcement on the palms, guarantees a good grip and sufficient durability for intensive use on ski tours. The practical pull-on aid is particularly convenient in freezing temperatures, when everything has to move quickly. Thanks to the smart finger, a fine goatskin leather insert on the index finger, operating the display on a smartphone or GPS is easy even in gloves.
Our FLEECE LIGHT GLOVES for women are thus the perfect gloves for countless ski tour adventures.
Product features

Product features
Elastic materials
Fine merino wool inside
Leather punchhole reinforcement
Goatskin leather on palm of hand
Smart finger (ability to operate smartphone screen)
Pull-on aid
Material properties

Material properties
Merino on skin
High Breathability
Quick drying
WATER RESISTANT
wind resistant
OUTER FABRIC: 67 % polyester + 26 % virgin wool (OWP-MERINO) + 7 % elastane INSERTS: 100 % goatskin leather
Highlights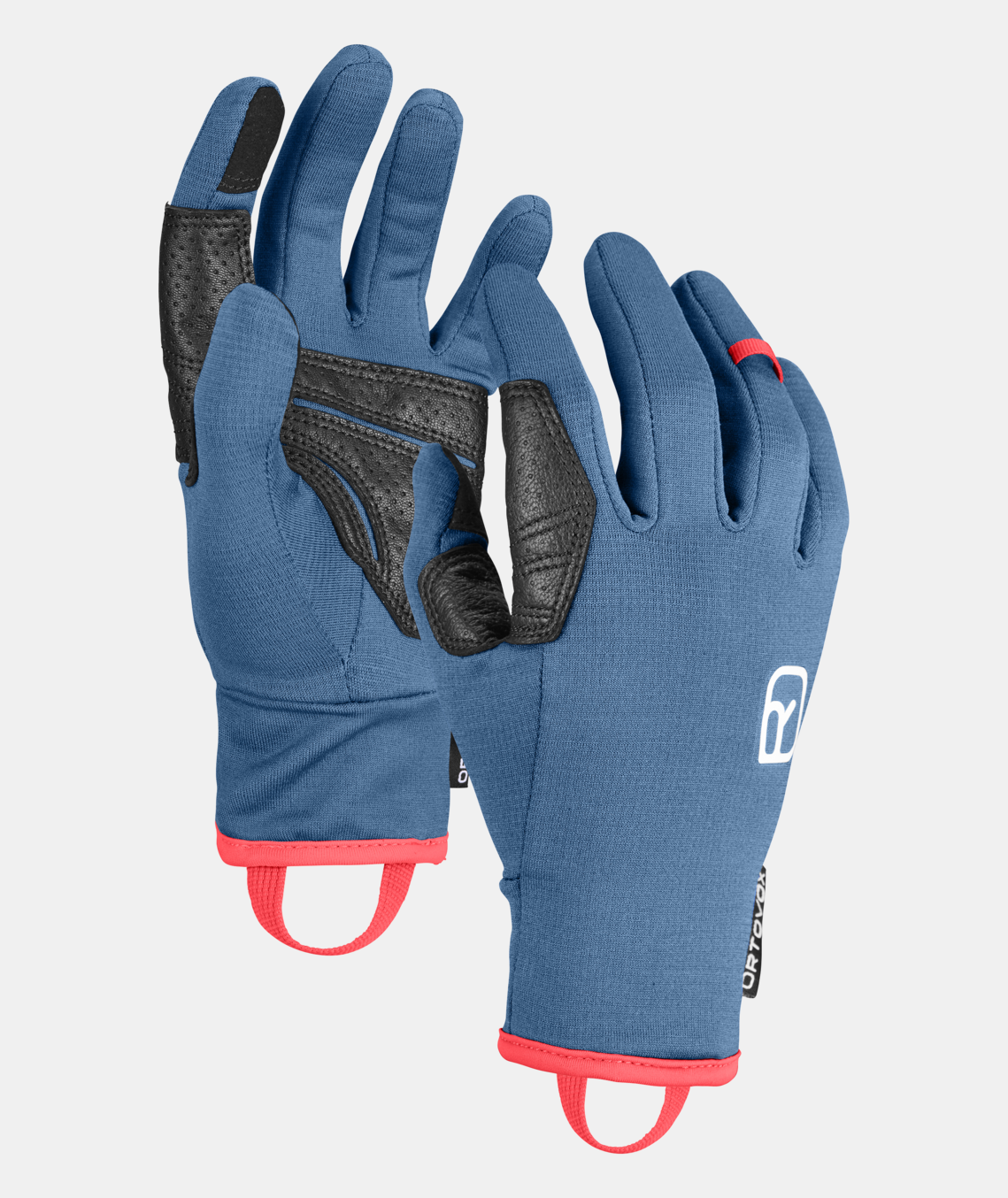 MERINO WOOL
MERINO WOOL
Sustainably produced – from happy sheep.
High-quality goatskin on the palms
High-quality goatskin on the palms
With PITTARDS OILTAC inserts for improved grip between the thumb and index finger.
Leather punchhole reinforcement
Leather punchhole reinforcement
SMART FINGER
SMART FINGER
(ability to operate smartphone screen)
BENEFITS MERINO WOOL
Our wool has its origins at the heart of a natural paradise: Tasmania. Where the air is at its purest, the food lush, and the climate moderate – that's where fair merino wool that fulfils the highest quality standards can be found.
ORTOVOX WOOL PROMISE
Our commitment to fair wool: Our own wool standard ensures that our merino wool is sourced in an animal- and environmentally-friendly manner. Our friendly relationship with our farmers enables us to have full transparency throughout the value-added chain.
You might also like these products