YOUR TRACKS – YOUR IMPACT
CHOOSE A SUSTAINABLE WAY OF FREERIDING
Freeriding isn't just about making the deepest powder turns and #nofriendsonpowderdays. Freeriding is a feeling. A deep connection to the snow-covered mountains. In all of their uniqueness. Freeriding means reading the lines of the mountain and defining your own tracks. It means respecting and protecting the mountains. Each one of us is responsible for the tracks we leave behind – in life and in the mountains. That's why our ENTIRE FREERIDE COLLECTION IS CLIMATE-NEUTRAL AND 100% PFC-FREE.
100% PFC-FREE AND CLIMATE-NEUTRAL FREERIDE COLLECTION
EQUIPPED FOR THE BACKCOUNTRY FROM HEAD TO TOE
3L DEEP SHELL OUTFIT
SPECIALLY DEVELOPED FOR FREERIDING
The new 3L DEEP SHELL jackets and pants are wind- and waterproof and provide protection in all conditions. The DERMIZAX®EV high-performance membrane from Toray is lined with merino wool in areas of the body that are particularly sensitive to the cold, guaranteeing optimum heat retention and a comfortable fit. The outfit is complemented perfectly by the new lightweight Freeride BIB – a must-have for anyone venturing out into the backcountry. To protect the sensitive kidney area, these freeriding pants are cut especially high and can be optimally adjusted to fit using the hook and loop fastener at the waist. All elements of the outfit can be combined perfectly and offer great freedom of movement thanks to their casual design.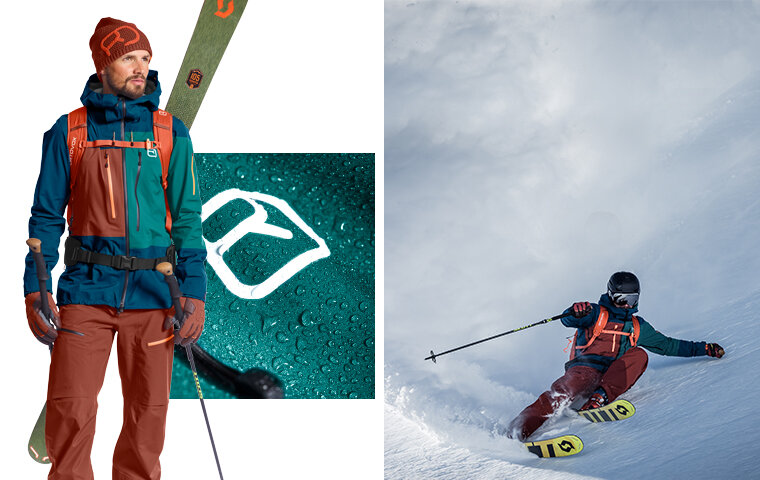 FREE RIDER BACKPACKS
SNUG, FUNCTIONAL AND ORGANIZED
The new freeriding backpacks fit extra snugly against the back in any terrain – just like a second skin. This is primarily down to the flat, elasticated CLASP FLEX BELT which provides control in every situation as well as reliable support. Thanks to the comfortable CLASP back system, the soft back pads hug the back perfectly without restricting the movements of the spine. On the inside, the back of the backpack can be fitted with the CLASP SPINE PROTECTOR. The focus here is both on your safety and on the environment: This freeriding backpack is completely PFC-free and, thanks to the use of recycled polyester, also climate-neutral. Winner of the ISPO Gold Award!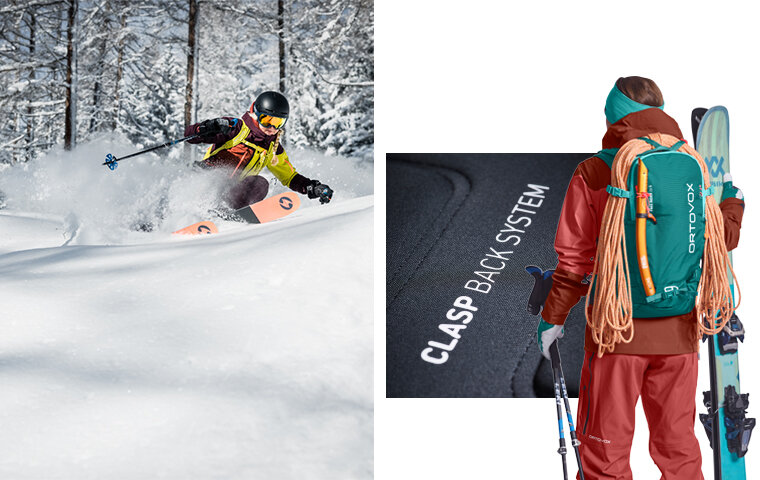 THE ENTIRE FREERIDE COLLECTION
Loading
Sorry, an error appears to have occurred