FLEECE GRID COVER GLOVE M
Colour: sweet alison
OUR PARTNER SPORTCO AG IS RESPONSIBLE FOR SALES AND SHIPPING IN SWITZERLAND.

The wool used in this product has been inspected for compliance with the ORTOVOX WOOL PROMISE.
More information

This product is climate neutral. It was produced in the most environmentally friendly way possible. Any unavoidable CO2 emissions have been offset.
More information

This product was manufactured under fair working conditions in conformity with Fair Wear Foundation.
More information
LIGHTWEIGHT, ROBUST ALLROUNDERS
Lightweight, warm fleece gloves with windproof covers for ski tours
Highlights
Lightweight and highly comfortable
Ideal grip
Glove cover as additional water-resistant wind protection
The FLEECE GRID COVER GLOVES for men/women are perfect for demanding ski tours with long ascents and rapid descents.
Functioning well during both ascent and descent, these lightweight, close-fitting ski tour gloves will make every alpine heart beat faster. Made of FLEECE GRID material with fine merino wool lining, these lightweight gloves are soft and comfortably warm. And to ensure this comfort doesn't come at a heavy price, we've given the material a special channel structure to keep the gloves lightweight and warm yet breathable. The special highlight: Integrated, retractable glove covers made of robust PERTEX QUANTUM PRO material that can be quickly and easily pulled over the fingers to provide additional protection against snow, wind and cold during descents. Silicone coating on the palms ensures a perfect grip on ski poles or an ice axe. The thumb and index finger are seamless and equipped with smart finger functionality so they can conveniently be used to operate a smartphone screen.
The FLEECE GRID COVER GLOVES for men/women are real allrounders for demanding, uncompromising ski alpinists.
Product features

Product features
Pull-on aid
Pulse protection
Silicone coating on the palms
Glove Cover
Wind- and water-resistant thanks to Pertex® Quantum Pro
Fine merino wool inside
Smart finger (ability to operate smartphone screen)
Material properties

Material properties
PERTEX® QUANTUM PRO
MERINO WOOL
FLEECE GRID
MAIN MATERIAL: 66% polyester + 21% wool (OWP MERINO) + 7% polyamide + 6% elastane PERTEX QUANTUM PRO: 100% polyamide
Highlights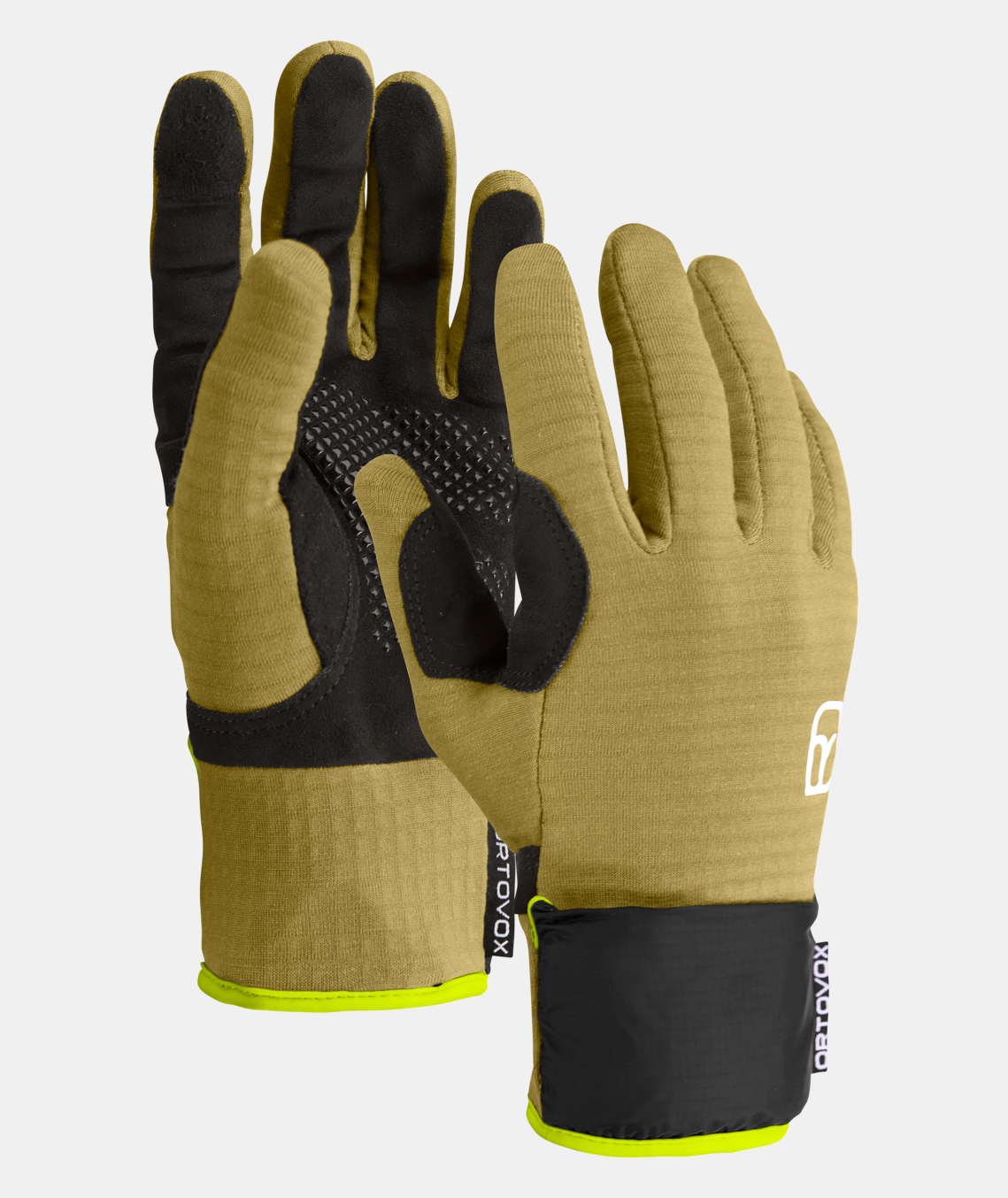 GLOVE COVER
GLOVE COVER
Additional wind protection.
WINDPROOF AND WATER-RESISTANT THANKS TO PERTEX QUANTUM PRO
WINDPROOF AND WATER-RESISTANT THANKS TO PERTEX QUANTUM PRO
Robust and durable with a high level of weather protection.
SILICONE PRINT
SILICONE PRINT
On the palms for a better grip.
SEAMLESS THUMB AND INDEX FINGER
SEAMLESS THUMB AND INDEX FINGER
SMART FINGER
SMART FINGER
Can be used to operate a smartphone screen
You might also like these products